Embark on a breathtaking journey of exploration as you cruise around the enchanting Chlakidiki. This travel adventure promises to be an unforgettable experience of wonder and relaxation. Set sail on azure waters, caressed by warm, gentle breezes, as you discover hidden coves and pristine sandy shores.
Leisuring around Chalkidiki
Indulge in the luxury of idyllic beachside resorts, where time slows down, and worries fade away like footprints in the tide. Immerse yourself in the local culture, savoring delectable cuisine and mingling with friendly locals, all while basking in the sun's golden embrace.
Experience vibrant sunsets that paint the sky with hues of orange and pink, and enjoy every moment on this voyage that exudes a magical traveling vibe. So, raise your glass to adventure and let the rhythm of the waves carry you away on this dreamy escapade to Chalkidiki. Bon voyage!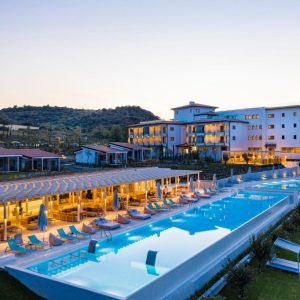 MOUNT ATHOS RESORT
Mount Athos 5* luxury resort is located at the end of the picturesque town of Ierissos. It's just 10 km away from the border of The Autonomous Monastic State of the Holy Mountain. The boats, which take you there, leave from the harbor just in front of the hotel.
The resort is in close proximity to the town of Stagira – the birthplace of Aristotle as well as Ouranoupoli – the gate of Mount Athos.
Whether you choose to enjoy the luxurious surroundings of the Mount Athos Resort or explore the numerous sightseeing and archeological sites in the area – a unique holiday experience awaits you!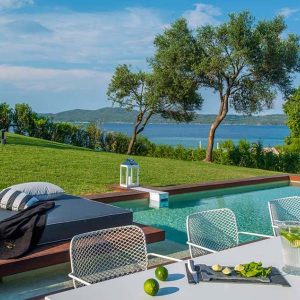 AVATON LUXURY BEACH RESORT – RELAIS & CHATEAUX
Avaton Luxury Beach Resort, a proud member of Relais & Châteaux, is a stylish and contemporary beachfront escape overlooking the sparkling turquoise waters of the Athos Peninsula in Halkidiki, Greece.
It consists of an exclusive collection of 36 luxury suites, villas, and rooms. Most of them have private pools with in-built sunbeds which tantalize the feeling of relaxation in our Mediterranean gardens.
Enjoy a meal of creative Greek cuisine in our private, residents-only restaurant. Accompany it with a refreshing cocktail tailor-made by our on-site mixologist and food pairing expert. Indulge in a journey of taste on the hill in front of our beach, overlooking the crystal waters.
Feel unique with our VIP services which add pleasure to your luxury vacation in Greece. Enjoy a refreshing massage or yoga session. Cruise around Holy Mount Athos, a UNESCO World Heritage Monument on a yacht. Feel the ultimate holiday experience to create memories that last a lifetime…!
MEDITERRANEAN PALACE HOTEL
Mediterranean Palace is a five-star hotel located downtown Thessaloniki, having 111 rooms and 7 suites, stylishly decorated, and equipped with all the up-to-date amenities. Mediterranean Palace's location makes it the ultimate accommodation choice since it is next to the traditional area "Ladadika" and has an astonishing view of Thermaikos Gulf.
Assembling the most beautiful characteristics of Thessaloniki, the Mediterranean Palace is characterized by traditional Greek hospitality with vivid cosmopolitan elements and a refined sense of peace. Luxury and style, along with its strategic location in the commercial and economic center of the city, make Mediterranean Palace an unforgettable destination.
Rates:
4 nights in MOUNT ATHOS RESORT + 2 nights in Thessaloniki at MEDITERRANEAN PALACE, 5* + Airport transfer from Thessaloniki Airport, Thessaloniki Hotel to Mount Athos Resort and Athos Mount Resort to Thessaloniki Airport:
From 960 euro per person in a double room
7 nights in MOUNT ATHOS RESORT + 2 nights in Thessaloniki at MEDITERRANEAN PALACE, 5* + Airport transfer from Thessaloniki Airport, Thessaloniki Hotel to Mount Athos Resort and Athos Mount Resort to Thessaloniki Airport:
From 1.450 euro per person in a double room
4 nights in AVATON LUXURY BEACH RESORT – RELAIS & CHATEAUX + 2 nights in Thessaloniki at MEDITERRANEAN PALACE, 5* + Airport transfer from Thessaloniki airport, Thessaloniki hotel to Mount Athos Resort and Athos Mount Resort to Thessaloniki Airport:
From 1.510 euro per person in a double room
7 nights in AVATON LUXURY BEACH RESORT – RELAIS & CHATEAUX + 2 nights in Thessaloniki at MEDITERRANEAN PALACE, 5* + Airport transfer from Thessaloniki airport, Thessaloniki hotel to Mount Athos Resort and Athos Mount Resort to Thessaloniki Airport:
From 2.320 euro per person in a double room